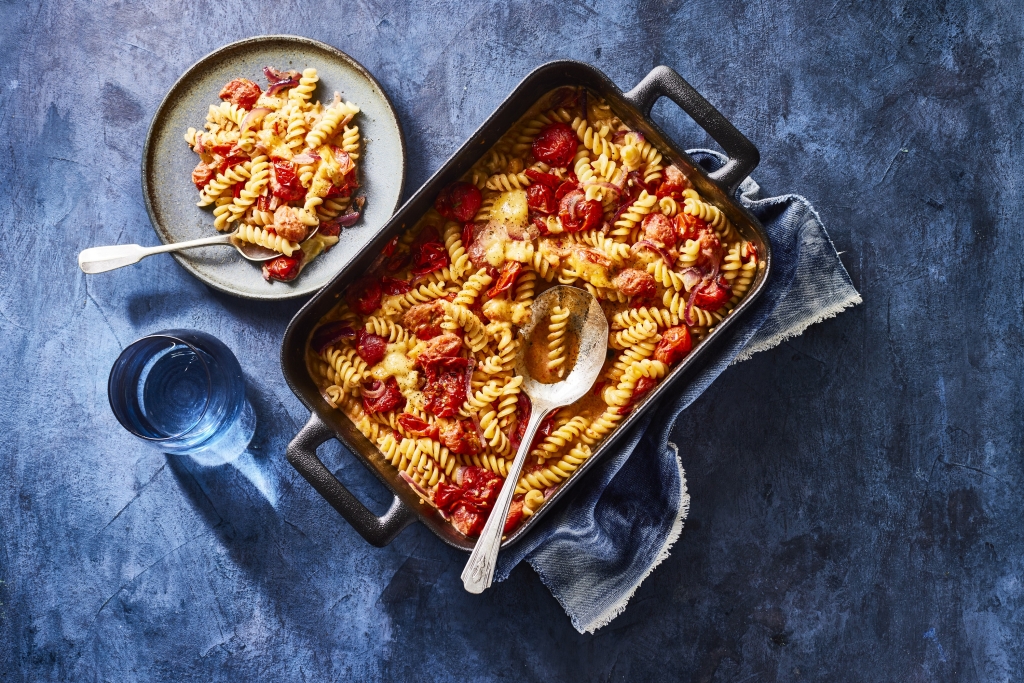 Main Course. 4 Persons. Preparation 10 min. + 30 min. oven time + 15 min. waiting time
Ingredients
200 g Beemster Jong Belegen 48+
1 red onion
800 g cherry tomatoes
1 tbsp mild olive oil
2 tbsp. dried Italian herbs
50 ml of whipped cream
300 g fusilli
Kitchen Stuff
Oven dish (approx. 36 x 24 cm, greased)
Aluminum foil
Prepare
Preheat the oven to 220 °C. Cut the cheese into 12 equal cubes. Cut the red onion into half rings.
Place the cherry tomatoes and red onion in the baking dish and drizzle with the olive oil, sprinkle with the Italian herbs, spoon through and roast for about 15 min at the top of the oven.
Remove the baking dish from the oven, slide the tomatoes and onion to the sides of the dish and place the cheese cubes in the center of the baking dish. Pour in the whipping cream, cover with aluminum foil and bake in the center of the oven for about another 15 min.
Meanwhile, cook the pasta according to the directions on the package. Drain the pasta and drain in a colander. Catch a cup of the cooking water.
Remove the baking dish from the oven, add the pasta and spoon through the melted cheese and roasted vegetables. Add some cooking water if necessary if the pasta cake is too dry. Season to taste with pepper and possibly salt.
Curious about other pasta dishes with Beemster cheese. Then take a look at our recipe page.