Double Dutch cheeseburger with Beemster Oud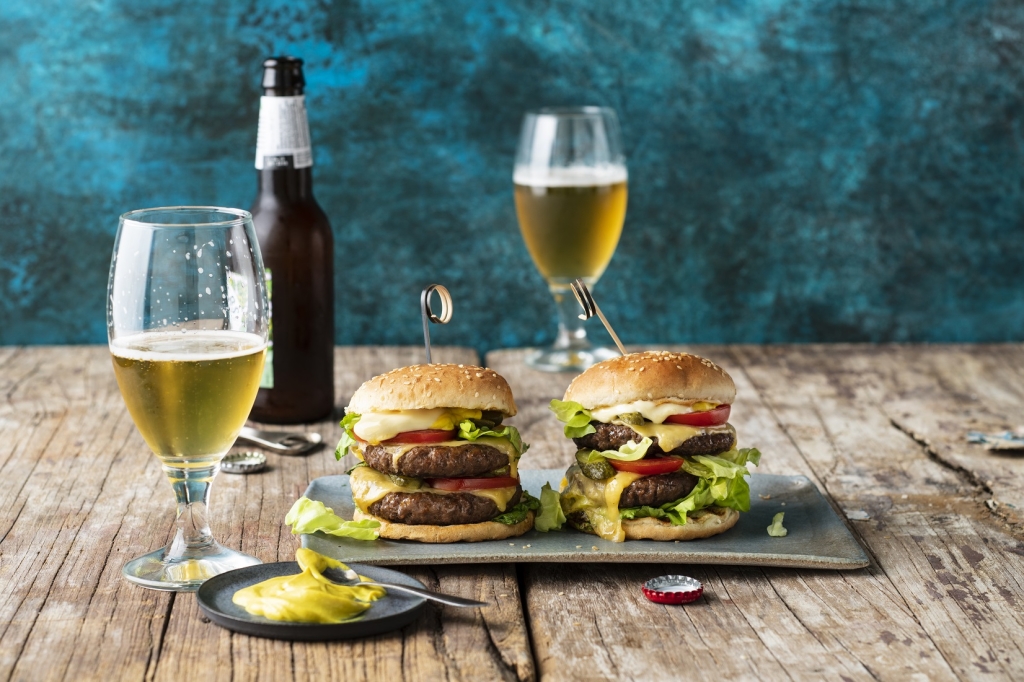 Main course. 2 persons. Preparation 20 min.
Ingredients
2 hamburgers
2 slices Beemster Old
1 tomato
4 lettuce leaves
4 hamburger buns
8 slices of pickle
yellow mustard
ketchup
mayonnaise
Prepare
Heat the grill pan. Place the burgers between 2 pieces of cling film and roll them slightly flatter with a rolling pin or bottle. When the burgers are half an inch thick, they are perfect. Grill the burgers for 8 min in the grill pan over medium-high heat. Turn frequently. Halve the cheese slices and place a slice of cheese on each burger. Let the cheese melt for 1-2 min. over low heat.
Meanwhile, slice the tomato. Wash and pat the lettuce leaves dry with paper towels. Cut open the hamburger buns.
Remove the burgers from the grill pan, but leave the fat in the pan. Place the buns on the cut side in the grill pan. Grill the buns for 1 min over medium-high heat.
On the bottoms of the buns, place a leaf of lettuce consecutively, then a burger with cheese on top, a slice of tomato and 2 slices of pickle. Top that with another lettuce leaf, burger with cheese, tomato slice and 2 pickle slices. Brush the cut edges of the tops of the buns with mustard. Put some extra mayo and ketchup on top. Cover with the tops of the buns.
Preparation tip
Can also be prepared with Beemster Young or Beemster Delicious.
Looking for other recipe inspiration? Then quickly visit our recipe page.