Flatbread with caramelized onion, Parma ham and Beemster Old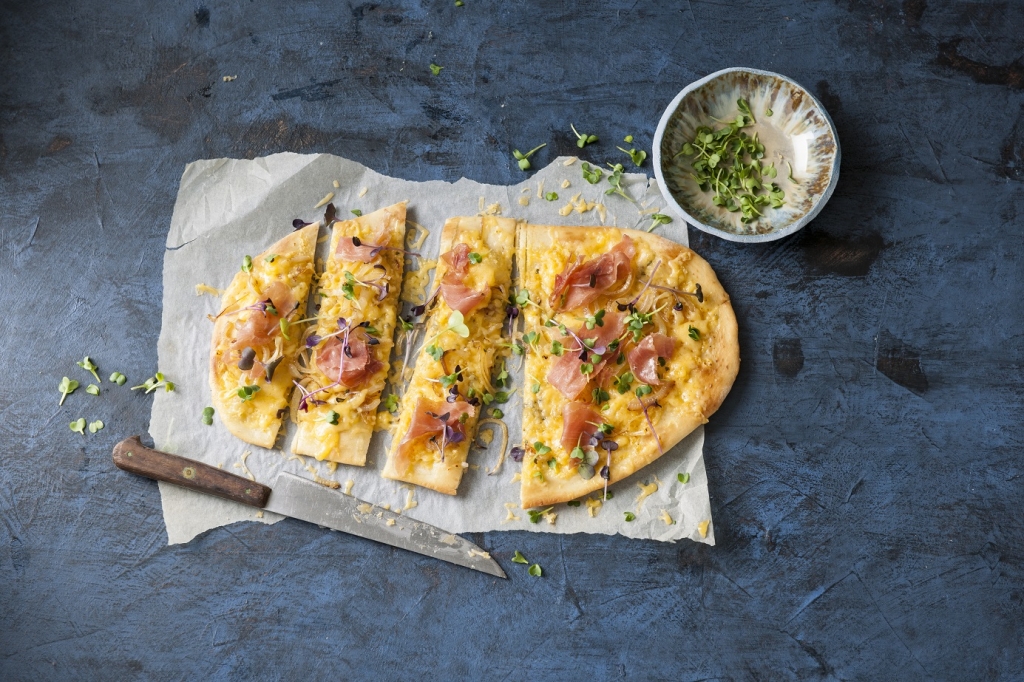 Appetizer. 6 people. Prepare 10 min. Prepare 30 min. 
Ingredients
1 large onion
1 tsp butter
2 tbsp flour for dusting
1 pack of fresh pizza dough (450 g)
2 tbsp olive oil
1 tsp finely chopped garlic
2 tbsp chopped fresh sage
200 g grated Beemster Old
85 g Parma ham
sprouts to garnish
Prepare
Preheat the oven to 220°C. Cut the onion into thin, half rings. Melt the butter in a frying pan and sauté the onion for 15 min, or until soft and golden brown.
Line a baking sheet with baking paper. Roll out the pizza dough on a floured work surface into a rectangle 3 mm thick. Place the rectangle on the baking sheet.
Mix the olive oil, garlic and sage in a bowl. Brush the pizza dough with the mixture.
Spread the Beemster and caramelized onion over the pizza. Tear the Parma ham into pieces and divide over the onions. Bake the pizza in the oven for about 15 min or until the crust is golden brown and the cheese is melted. Garnish with the sprouts and serve immediately.
Preparation tip
Make this recipe with a ready-made pizza crust or naan bread for shorter preparation time.
Crazy about recipes with pizza dough? You'll find a few more on our recipe page. Take for example the braided bread with spinach and Beemster mature cheese.