Tosti for dinner - favorite of food blogger Leonie ter Veld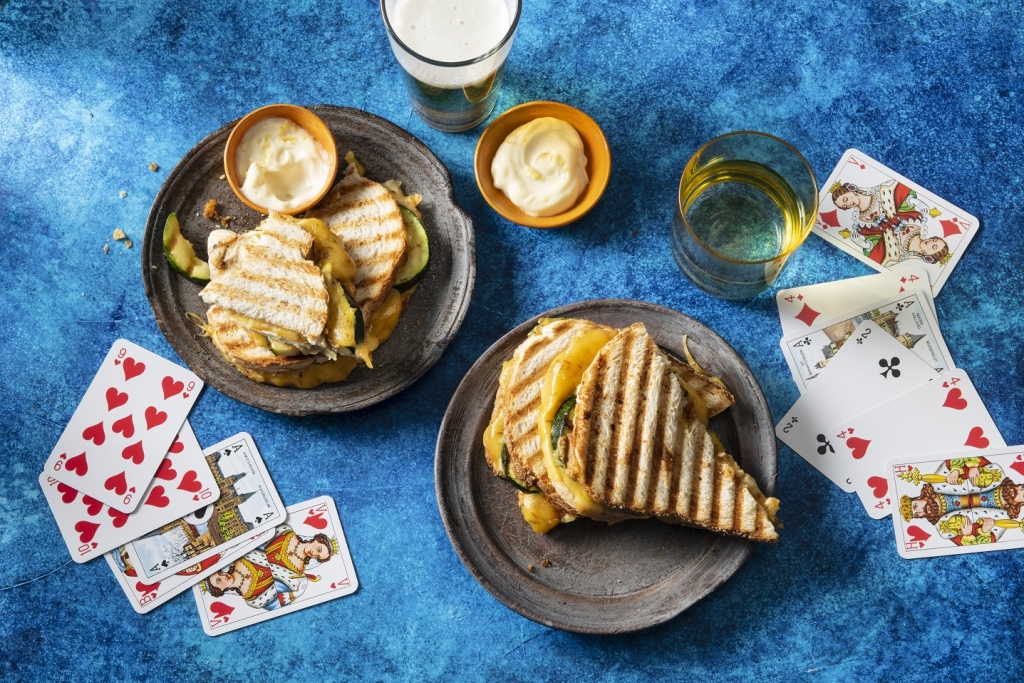 Main course. 2 persons. Preparation 25 min.
Ingredients
¾ zucchini
200 g organic chicken breast
1 lemon
4 slices of tasty white bread
good amount of Beemster Cumin (about 10 slices of one of those blocks of cheese per sandwich)
2 tbsp mayonnaise
Kitchen Stuff
Prepare
Cut the zucchini into 10 slices 1 cm thick. Cutting slightly diagonally will make the slices longer and make it easier to eat the sandwich.
Grill the zucchini without oil or butter in a toaster iron until grill marks appear. Drain on kitchen paper.
Cut the chicken breasts in half lengthwise, so that you get two thin slices from one chicken breast. Fry these in the sandwich iron in a few minutes until golden brown and cooked through. Cut the chicken into strips.
Cut the lemon in half. Grate the zest of half the lemon. Squeeze out half the lemon and mix 1 tbsp lemon juice and the lemon zest with the chicken strips. Season with some pepper and coarse sea salt.
Build the sandwich by topping one slice of bread with half the cheese, a good layer of grilled zucchini and grilled chicken with lemon. Top with some cheese again and finish with the other slice of bread.
Bake the sandwich between the sandwich iron for another 3 to 5 min. The sandwich is ready once the cheese is melted and the bun is nice and crispy.
Meanwhile, make a lemon mayonnaise by mixing the juice of the rest of the lemon with the mayonnaise. Further season the mayonnaise with some coarse sea salt and some lemon zest, if desired. Serve the lemon mayonnaise with the sandwich.
Serving tip
All day breakfast becomes all day sandwich. Bitter morning? This XXL tosti will have you up and running in no time. Don't feel like cooking? This sandwich seals the deal.
Crazy about melted cheese? On our recipe page you will find lots of dishes with melted cheese.